Diocese of the Great Lakes News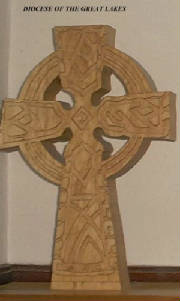 In Time of Great Sickness and Mortality.
(BCP p. 45)

O MOST mighty and merciful God, in this time of grievous sickness, we flee unto thee for succour. Deliver us, we beseech thee, from our peril; give strength and skill to all those who minister to the sick; prosper the means made use of for their cure; and grant that, perceiving how frail and uncertain our life is, we may apply our hearts unto that heavenly wisdom which leadeth to eternal life; through Jesus Christ our Lord. Amen.
***************************************************************************************
I HEARD a voice from heaven, saying unto me, Write, From henceforth blessed are the dead who die in the Lord: even so saith the Spirit; for they rest from their labours.
Father Pfaff Called Home
The vicar of the DGL's Holy Cross Mission in Baraboo Wisconsin has died. Father Jerry had been struggling against many health issues for the past several years. There will be more information in the DGL newsletter's next issue.


///////////////////////////////////////////////////////////////////////////////////////////////////////////
Bishop Murrell Leaving the DGL
The DGL sadly is losing another clergyman. Rt. Rev. Steven Murrell, (who is a medical doctor), is moving from Minnesota to a practice in Montana. We will not only be losing a great suffragan bishop, but also his wonderful wife and children. The DGL's Saint Urith's mission in Perham MN will also be closing.
*****
The Diocese of the Great Lakes
Mid Lent
The Saltire & Halberd
Newsletter
is now on line !!
Diocese of the
Great Lakes
upcoming
Special Services
Saints Andrew & Matthias
Hastings MI

********************

ALL services cancelled
until May 17th
********************
Thornapple Manor
HASTINGS MI
services canceled
until further notice

***********
*********************
Holy Gospel Mission
STANTON MICHIGAN

Call Father Hadley at
/////////////////////////
Saint Stephen's
Williamsville NY
All Thursdays
5 P.M.
Evening Prayer
-------------------------
Sovereign Grace Mission
Grand Rapids, MI
Evening Prayer
Each Thursday
7:00 P.M.